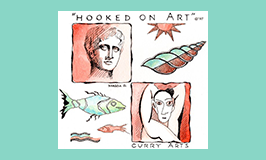 There is a new weekly art meetup in Gold Beach for all ages, mediums, and skill levels!
We are a small, growing group of individuals, affiliated with Curry Arts, who are interested in working on art together. From absolute beginners to advanced/professional artists, and every skill level in-between, we are a nonjudgmental, welcoming group.
These freestyle art get-togethers, with a wide range of talents and abilities, ages, mediums and aspirations have a common thread of utilizing a group workspace and the allocated time to create art.
Art mediums are all-inclusive and we will explore themes and potential workshops as we go along. Please bring supplies to work with or just yourself – we will have simple supplies available for sharing.
The group will meet Thursdays from 4-6 pm.  On November 8, the group will meet in Mr. Lensing's Art Room at Gold Beach High School.  Beginning November 15, meetings will be in the art room at Riley Creek School.  Click here for meeting room location details:  Location Map
Keep an eye on this space for scheduling details or visit the Group's Facebook page at  https://www.facebook.com/groups/325076734710812/ .
You may also contact Julie Wilson jpuzwilson@gmail.com or Janee Lensing  jllensing@gmail.com for more information.