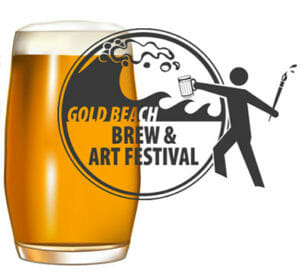 Mark your calendars for the 13th Annual Gold Beach Brew and Art Fest — scheduled for Saturday, June 26, 2021!
It was with regret that the 12th Annual Gold Beach Brew and Art Fest was canceled for June 27, 2020. As much as we would have liked to proceed with the event, our first priority needs to be the safety of our community.
The decision to cancel the Brew Fest was especially difficult because we realize the negative economic impact that it will have on our community and the charitable organizations that rely on the funds that are raised from the event.
Curry Arts was able to donate almost $7000 to the art and music programs at Riley Creek and Gold Beach High School last year as a result of Brew Fest 2019. Anticipating that next year's school budget will be impacted due to the current economic crisis, the need for outside funding for these programs will only increase.
We don't often ask for donations to Curry Arts, but if you have the means and are interested in making a contribution this year, your generosity will be greatly appreciated by many art students and educators in our community.
Below you will find a link where you can donate online to Curry Arts and also a link to explain how your donation can be matched through the Oregon Cultural Trust's state tax credit program.
Donate to Curry Arts Here
Oregon Cultural Trust State Tax Credit
Thank you so much and we will see you on June 26, 2021 for next year's Gold Beach Brew and Art Fest 2021!
Curry Arts