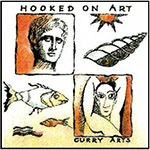 Curry Arts provides scholarships for art and music students.
Curry Arts, Inc. Art and Music Award
This award is available to students beginning their sophomore year and beyond, including graduate school and post-graduate certification.
Student applicants for this scholarship must:
Be a graduate of Gold Beach High School
Have completed their freshman year of formal instruction in an accredited institution
Be a declared major in the fine or applied arts (such as painting, sculpture, or ceramics), or a related field of art study (such as commercial art, film/video production, computer graphics, art history, art education, or art therapy)
Have earned a minimum G.P.A. of 2.5
This scholarship is awarded through the Gold Beach Educational Fund.
This is a merit scholarship.  Financial information is not required.   You may skip the financial information section of the application.
To download the application, go to:  www.goldbeacheducationfund.org
select "Scholarship Information" from the menu on the left
select "Scholarships for Continuing Education Students" from the menu
scroll down to select "scholarship application"
download and complete the application