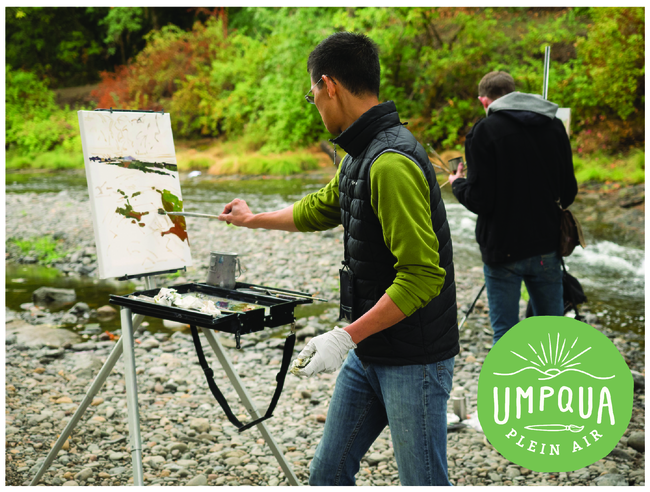 The Umpqua Valley Arts Association Presents
Umpqua Plein Air 2017
Event dates: September 13 – 16, 2017
Application deadline: September 1st.
SEPTEMBER 13th – 16th, 2017
Opening Reception: September 16, 2 – 4 PM
Exhibit Runs Sept 16 – Oct 24
UVAA's Umpqua Plein Air Event is a three-day annual competition for artists working en plein air. During the event, artists will capture Douglas County's wild and stunning landscapes including the breathtaking, emerald waters of the North Umpqua River and the quaint, historic charm of Downtown Roseburg.
Our Umpqua Plein Air Artists will enjoy:
•Demo with our juror Kathyrn Stats
•Three stunning suggested Paint-Out locations, including the North River and Doc Bailey's Century Farm
•An artist brunch and live music at the beautiful Arts Center
•Orientation and Q&A with Gallery Director Sandee McGee and Vinita Pappas, Umpqua Plein Air Committee Chair
•UVAA Hospitality, including home-baked goods and delicious coffee from Rogue Valley Coffee Roasters
•An Opening Reception where winners will be announced and light refreshments will be served.
•Up to 40 awards of distinction will travel to two different locations, including Emerald Art Center and Gallery Northwest
•Up to three works shown in the Umpqua Plein Air exhibit, here at the Arts Center, which runs from September 16 – October 24
Cash prizes:
Best of Show – $500
Second Place – $200
Third Place – $100
People's Choice – $100 Gift Certificate donated by Dick Blick Art Materials
Up to 40 Awards of Distinction will also be awarded.
This year, we are proud to present Kathryn Stats as our juror.
Umpqua Plein Air is open to beginning through advanced artists. We hope you grow from this event and keep coming back each year to further your skill set and make connections with your fellow artists. Come and experience the camaraderie of our artist community here in Roseburg and capture a piece of the spectacular Land of Umpqua.
View our event schedule for more details.
MORE INFORMATION
Registration Deadline: September 1st, 2017
Questions with the application process?
Call us at 541.672.2532 or contact our Gallery Director.