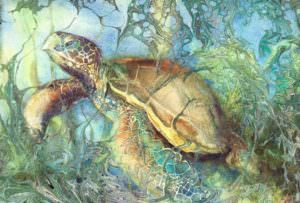 Rene Eisenbart, NWS, WFWS
Watercolor Workshop
March 5, 6, 7, 2018
 (Workshop is now full – wait list is available)
Curry Arts, Inc. will host a fun and informative, three-day workshop in Gold Beach, with nationally recognized artist, Rene Eisenbart (http://rene-art.com) March 5th through 7th,  9 a.m. to 4 p.m. each day.  The cost for the 3 day workshop is only $265 per student.
Rene will emphasize marbling techniques and will also work in watercolors, spending a day using marbling to "resurrect" failed paintings (wow, finally a use for all those "bin" paintings!)  Rene says:  "Sometimes finding our way out of something that isn't working takes us in completely unexpected places! It's an exciting and creative process."  Please see Rene's website for a detailed description of her marbling technique.
All marbling materials are included in the $265 fee.  However, students are responsible for all other painting materials.
This workshop is full, however, there is a wait list in case of any cancellations.  To reserve a place on the wait list contact Curry Arts at curryarts@charter.net as soon as possible.
René Eisenbart's art-making which started in childhood has developed into a multi-faceted career, including 25 years as artist for The Oregonian where she created weekly botanical illustrations. Hundreds of her paintings have been published in the Homes & Gardens section and the book, "Plant This" by NPR correspondent Ketzel Levine.
 Rene's art — often infused with the human form or quintessential plants and creatures of the Northwest — is rich with symbolic meaning. It is a dance between her intention and the flow of paint. She incorporates texture and patterning and uses unusual color to move the eye through her paintings. In combining acrylic marbling and watercolor — two practices with long traditions — Rene has developed a signature technique. She reinterprets images by weaving layers of marbled patterns with glazes of colorful paint. These interlaced works invite the viewer to construct their own narrative. They are drawing attention and winning awards. 
René teaches in her NW Portland home, throughout the region and also leads travel workshops in Croatia, France, Italy and Hawaii. She encourages each person's unique artistic expression, creating a safe, supportive environment for growth and experimentation. Read more about her process on her blog.