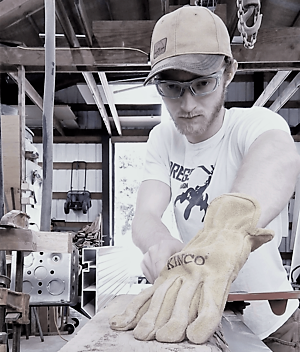 Brodey Carpenter was the Jo Bailey/Curry Arts Scholarship winner in 2011 and 2012. He graduated from Gold Beach High School as Salutatorian in June 2010 and moved to Denver, Colorado to pursue a degree in Industrial Design.
Brodey applied for our scholarship in the spring of 2011 after his first year of classes at Metropolitan State College of Denver. His art studies there included classes in Two-Dimensional Design, plus Drawing 1: Black and White, Woods Materials & Fabrication, Metals: Materials & Fabrication, and Perspective Drawing.
Brodey also joined an Outdoor Adventure club which provided avalanche training and helped focus his career plans. He wrote:
"My goal after finishing my Bachelor's degree is to work in the outdoor adventure area designing sporting equipment. I would like to create gear for camping, rock climbing, mountain-biking, snowboarding, and similar extreme sport areas. Being in Denver, the west's hub of outdoor sports is a fantastic place to be for my area of interest. I am accumulating a network of friends that are connecting me to contacts in this industry. These contacts will help me achieve my goals, and my network is continually expanding. I' m looking forward to completing my degree in Denver and ultimately, I would like to start my own business, creating a line of outdoor adventure gear.
"Since outdoor adventure is my career interest, I decided I needed firsthand experience. I've started rock climbing, and bouldering, and I have been snowboarding more frequently than I have been able to in the past. I have also learned that I need extra eye protection in Denver at this mile-high elevation. Along with these new outdoor adventures, I am still pursuing my musical interests by playing bass guitar in a local band called Bad Tuesday."
We were pleased to be able to help him further his career goals with our scholarship and were very curious about his progress. Happily, Brodey's application arrived in the spring of 2012 with news of his continued success in school and out. In his own words:
"In the last year at school starting with the fall semester, I have acquired a new job, taken an insane course load, organized and executed the school's first bouldering competition (it's a form of rock climbing), with a repeat this spring, and co -started my own business.
"It's been, and I imagine will continue to be, a crazy next couple of semesters, or even years, while going to school and getting my brain child, Anti Gravity Climbing Gear, off the ground and into orbit. Right now the company is solely focused on the design and manufacturing of climbing holds for home, and gym climbing walls. My partner and I are using techniques that we have learned in our plastics, woods, manufacturing processes and materials, perspective drawing, and solidworks classes just to name a few off the top of my head. These classes have been very valuable in the creation of this company, yet I wish there was more time in the day so that I could focus on this more than I am able to at this moment."
Brodey was our first (and only so far) repeat recipient of our scholarship. He wrote us in January 2013 with an update that seems to have foreshadowed his future career choice:
"Along with the studio design classes I have also been taking other classes that teach me specifics, such as solid works, a 3-D design and visualization software that allows a designer to also be pretty much an engineer as well… I have also taken a furniture design class that was specifically working with a mid-century modern furniture store in downtown Denver. We worked closely with their furniture "picker." This is a person that gets to choose which pieces of furniture the store will carry. The "picker" works with the students throughout the design process. In the end a piece of furniture that could hypothetically be featured in their store, Room and Board, was built. Room and Board picked six pieces of furniture that they will actually display in the spring, and mine was their first pick, a queen-sized bed made of cherry wood and steel."
Brodey also included an update on his "brain child," Anti Gravity Climbing Gear:
"As well as more classes, I have also been working on my company Anti Gravity Climbing Gear. It is coming along at a crawl with school and work being main priorities. However, my partner and I have come a long way since last January. We have gone through at least five stages of product, and each stage got better and better. We now have a very clean and easily recognizable logo imprinted on our product. We have some product in a couple of local gyms and have sponsored two climbing competitions with our climbing holds. The gyms have given us very good feedback and most of the individual feedback has been very positive as well. People keep telling us that they like out product very much, which is a really nice thing to hear. However, we have recently decided to change our holds into large features at first. Large features are holds that are as big as or bigger than basketballs. We have found that there are even fewer companies in the US that have really good features or any sort of selection of features at all. We have also been noticing that gyms are looking for larger holds these days because they offer so much variation. The goal is to become known for very large, fun, and good quality feature holds and then once we are recognized for that we will start adding more sets of the smaller holds into our lineup. Unfortunately, in the next few semesters we will have to decrease the amount of time that we will be able to work on Anti Gravity, because of the types of classes my partner and I will be taking. However, with the harder classes comes the ever-nearing end and graduation from college and with it a diploma and the title of Industrial Designer."
Unfortunately, that was the last we heard from this fascinating person until he popped up at our 2017 Gold Beach Brew and Art Festival with his own design and manufacturing enterprise: Dredge Design! Brodey has learned and honed his skills and brought them home to our south coast.
If you missed him at the Brewfest, you can find him online at:
Dredge Design FROM THE DEPTHS OF THE MIND
Not your parents' furniture
Brodey Carpenter _ Owner/ Creative Director @ Dredge Design
Avid boulder-er, bboy, musician, and fashion/ design world enthusiast. Simply put "I just wanted to draw stuff and make things."
Dredge is a "new breed" of furniture company. Inspired by forms and concepts of dystopian and techwear fashion, and the idea of long term durability in both materials and taste. Material processes also play a large role in the final look of a piece, for we embrace the constraints of tools and let them leave their mark, to craft a story of how a piece is created.
Dredge designs and builds on the Southern Oregon coast. We manufacture, assemble, and ship everything from our headquarters.
23429 Carpenterville Road
Brookings OR, 97415
+1 541.708.2059
Brodey is a member of the Oregon Woodworkers Guild with a listing on their website:
http://www.guildoforegonwoodworkers.com/Sys/PublicProfile/40075764/826174
Brodey Carpenter
Dredge Design
Product designer, specialized in furniture.
Mechanical modern designs with cyberpunk and techwear influence, that primarily use wood and steel.
Business is Dredge Design, a luxury branded furniture line.
Bachelor's degree in Industrial Design (product design)
3 years as lead designer/ woodworker at Denver, CO custom furniture company, Where Wood Meets Steel. (2014-2017)
Started my own luxury branded line of furniture: Dredge Design.