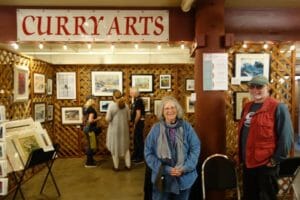 The 2019 Brew and Art Festival was a HUGE success thanks to the combined efforts of Curry Arts and Soroptimist International of Gold Beach.  The two community groups combined forces as more than 100 volunteers performed, served and displayed original art for beer, art and music lovers who packed the Event Center on Saturday, June 22nd.
The weather cooperated with sunny skies and non-gale force winds — a good time was had by all.
Curry Arts' Brew & Art Festival proceeds go directly into the art classrooms of Gold Beach Schools and a portion funds scholarships.  Over the past 5 years, Curry Arts has donated over $25,000 to the Gold Beach Schools' art and music departments.  The instructional donations are made to a "290 Fund" that is managed by the classroom teacher and used to purchase art and music supplies. The donations cannot be used to replace school funding that is diverted for other purposes.
More information on the available scholarships can be found here.