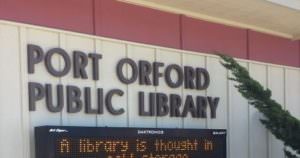 This month the Port Orford Library will exhibit works by artists Susan Chambers and Elaine Owen. Some of you may remember Susan from her time in Port Orford when she baited tubs for black cod, worked as a deckhand during crab season and served up tuna at the arts and seafood festival. You can see her love of all things ocean in her marvelous watercolors. Her work also includes lighthouses from around the world printed on old seafaring book pages. Painting sea animals and lighthouses as far away as the Drago Lighthouse in South Korea allows her to learn more about the intricacies of the marine ecosystem and places she may not have the opportunity to visit.
Elaine Owen is no stranger to the library—she has served on the library and foundation boards, as a front desk volunteer, and is an active member of the Friends of the Port Orford Library. All this and art too—whether weaving or photography or some other creative medium, Elaine's work delights the senses. Her current exhibit highlights her interest in photography. She credits photographer/teacher John Heida for helping her develop her skills, and is quick to say how much she likes his classes, "the people are great." So, it's no surprise that her exhibit is an evolving one; that is, over the next 3 months some of her work will come down and photos by her fellow students will go on display.
There will be an Artists' Reception from 3-5pm on Sunday, October 22 at the library. This event, sponsored by the Friends of the Port Orford Library, will honor all the artists who have exhibited their work at the library this year. Art, friendly folks, tasty tidbits equals a good way to spend a Sunday afternoon.
Contact into: Tobe Porter, President, Friends of the Port Orford Library, 541-332-4340, Tobe1945porter@gmail.com 
by Tobe Porter for the Friends of the Port Orford Library