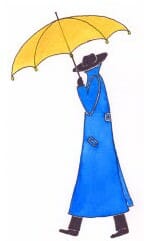 Curry Arts member Magda Druzdzel, is pleased to announce the opening of her new gallery in Gold Beach – Blue Raincoat.
Formerly "Magda Gallery", the new gallery is located at 29282 Ellensburg Ave, at the south end of town across from the Forest Service offices.
This new space is a joint family effort, featuring works by Magda and her children, Maja and Kai.  Works will include original watercolors and acrylics by Magda and Maja, and photography by Kai.
In addition to framed and unframed art, the gallery will sell a variety of greeting cards, hand painted cards, gift certificates, and beautiful souvenirs of the area.