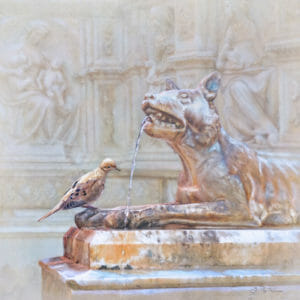 Julie Puz Wilson – Featured artist Curry Public Library –  September thru November
Meet the Artist Reception October 12 – 2 p.m. to 3:30 p.m.
View the work of Curry Arts board member, Julie Puz Wilson and meet the artist on October 12 from 2 p.m. to 3:30 p.m. There will be a Q & A session with the artist, and refreshments will be provided. This program is free and open to the public.
An artist and illustrator with a degree in zoology, Julie Puz Wilson combines her love for both art and science by creating imagery that most often depicts nature, wildlife, and "small ecological moments." Although she has dabbled in all sorts of traditional art media, Julie has been focused on digital art and photo illustration for the last several years and has created hundreds of custom portraits and paintings for clients around the globe. She has shown and sold her traditional and digital artwork in small galleries in California and Oregon and has created pieces ranging in size from tiny locket miniatures to airplane nose art. Julie has led a nomadic life but currently resides in Gold Beach with her husband, three rescue dogs, and one ornery cat.
The art of Julie Puz Wilson will be on display September-November in the 2nd floor gallery of the library.
More of Julie's work can be seen at http://www.curryarts.org/julie-puz-wilson/
See the Curry Public Library website for details on location and hours:  https://www.currypubliclibrary.org/