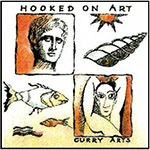 There are several ways you can get involved in Curry Arts:
Sponsoring Artist for $35. Includes a gallery webpage.
Donating Member. Donate $15 or more and be a supporter of arts in our community.
Sponsoring Member for $35. Business can display their logo or business card on our website.
Print the membership form and mail to:
Curry Arts
PO Box 399
Gold Beach, OR 97444
Donations are tax deductible as Curry Arts, Inc. is a 501 (c) 3 tax-exempt organization.
Make checks payable to Curry Arts, Inc.