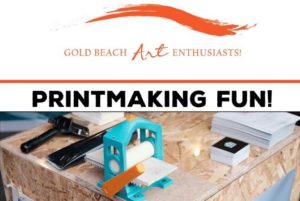 Gold Beach Art Enthusiasts will be hosting a free Printmaking Fun! workshop on Saturday, March 9th at the Curry Public Library beginning at 10:00am.
See what happens when we combine the centuries-old practice of Intaglio Etching with modern-day 3D printing technology!
Demonstrations and hands-on activities for all artistic abilities and we always welcome your own art and techniques if you would like to share.
For questions or more information, contact Julie Wilson jpuzwilson@gmail.com or Janee Lensing jllensing@gmail.com or visit the Gold Beach Art Enthusiasts Facebook page at https://www.facebook.com/groups/GBArtEnthusiasts/events/
[embeddoc url="http://www.curryarts.org/wp-content/uploads/2019/03/6AD1C385D8904D71A5B9AD09E00420B3.pdf" download="all" viewer="Microsoft"]