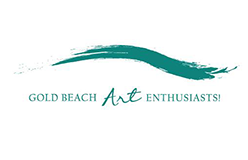 NOTE:  The Thursday Art Meet-Ups will be suspended for a few weeks for the summer.  Please check back for updates on when this fun group will start up again.
Our weekly Thursday Art Meet-Ups happen every Thursday from 4-6 p.m. in the Gold Beach High School art room and welcome artists of all levels who want to gather with the purpose of creating and sharing art and crafts.
Meet at the door off the parking lot behind the school and closest to the gym for entrance.  Please park in the back of the high school and use the rear entrance to reach the art classroom. We will lock the exterior door at 4:15 p.m. so if you arrive late, just text us.  Click here for a map to the location:  GBHS-Map for Art Meet-ups   Bring your own supplies and join us!
The sessions are generally unstructured, although we may set up a still-life or provide a theme for inspiration, and are intended to simply provide a time, a place, and the motivation to be creative. Bring your own materials and join us!
Additional upcoming events:
Saturday, February 9th at the Curry Public Library from 10-noon . Artist Dana Nelson will give a workshop on the art of Zentangle, a fun and relaxing way to create drawings with patterns. The cost for this 2 hour workshop will be $7 per person and will include supplies. Let us know if you are interested so we can make plans.  Click here for event flyer:  Event Flyer Zentangle Workshop February 9
Saturday, February 9th afternoon, we are planning a "field trip" to the 14th Annual Winter Art & Chocolate Festival. We'll carpool down to Brookings where we can explore and support the work of local artists….and quite probably indulge in a bit of chocolate as well.  More details to follow but if you have questions now, let us know.
To keep everyone informed, we have set up Facebook pages for both Curry Arts and for our affiliated group, Gold Beach Art Enthusiasts. Find and Like Us to keep up with our events and activities at https://www.facebook.com/groups/325076734710812/.
You may contact Julie Wilson jpuzwilson@gmail.com or Janee Lensing  jllensing@gmail.com for more information and keep an eye on this website ongoing news and membership information.
Hope to see you at an art event soon!
About Gold Beach Art Enthusiasts
In October, 2018 Curry Arts, Inc. formed an Arts Outreach Committee with several specific goals:
Support artists of all levels and increase the presence of and appreciation for art within our community
Expand on and develop inclusive opportunities for community members to engage with many types of art and craft mediums
Develop and implement art-focused activities and events as a means for community learning, social interaction, and wellness