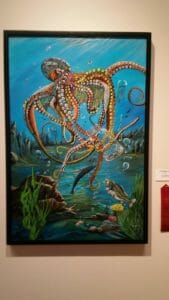 Coos Art Museum
Expressions West 2018
April 27th through June 30th
Congratulations to Curry Arts members Pat Renner, Anna Gitchel, and Pete Chasar, and also Gold Beach Artist Morgan Burton Johnson for having artwork juried into the 2018 Expressions West show at the Coos Art Museum in Coos Bay.
Anna Gitchel's colorful octopus painting (shown above) won the People's Choice Award at the show.  Anna currently has paintings on display at Wright's Custom Framing & Art Supplies in Brookings.
The show runs from April 27th through June 30th.
For more information on the show see the Coos Art Museum website at https://www.coosart.org/expressions-west-2018/