The Circle of Gold Mural Project will host a reveal event on Sunday, October 3, at 2pm.  The reveal will be in the 'showcase' building – the archery/4H/dog club warehouse.  All are welcome.
For more updated information and to contact the group by private message, please go to the Circle of Gold Facebook page https://www.facebook.com/groups/circleofgold.
Construction updates:
July 16, 2021 Update
The mural is progressing!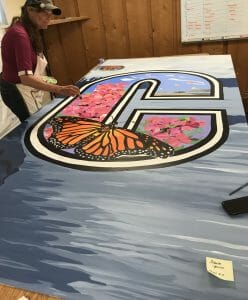 We are working with a project that is like the ever changing tides we live by. Every week, even every day a new challenge greets us, and we solve it in the best way we know at the time and we have modified our thought process countless times to meet these new challenges.
We believe that the end result will be, not only worth the effort, but a sight pleasing to the eye and a gracious tribute to the community that has come together and enriched this part of our world.
We are in the planning stages for the Big Reveal and are excited to continue to work with everyone.
Stay tuned for updates!
July 14, 2021 Update
The painting progresses!  Keep an eye on this website post to watch the mural evolve.
If you are intending to paint and have not done so yet, Lisa and Sharon are great at showing the way to make every painting style the same so the panels will blend. Please check with them before you start.
July 8, 2021 Update
Painting is underway on the panels.  Set times for painting are: Monday at 10am, Wednesday at 2pm and Saturday at 10am. This  allows for ample drying time in between sessions.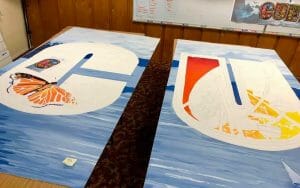 If you are intending to paint and have not done so yet, Lisa and Sharon are great at showing the way to make every painting style the same so the panels will blend. Please check with them before you start.
We are learning a lot from trial and error as we move along, but it is best to try to be on the same page from the start.  The project is proving to be quite popular with people watching it take shape from afar. It is amazing!!
On Monday and Wednesday the fair office personnel will let the painters in to the Gold Room. The office opens at 10am and closes at 3pm.  Please go to the front door that is facing the highway. Please do not go to the back door. They are super excited about the mural, and glad to help us.
We also have other things to start working, including invitations to the Big Reveal and gathering all the business and personal names of those who donated money as well labor or items.
July 1, 2021 Update
Good news! The painting of the the mural has started and is officially moving FAST.
If you are interested in participating, the opportunity is open to any and all skill levels.
For more updated information and to contact the group by private message, please go to the Circle of Gold Facebook page https://www.facebook.com/groups/circleofgold or call Becky at 541-698-7374.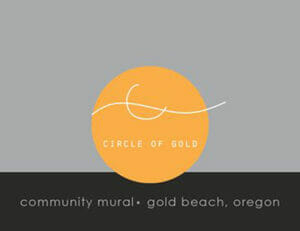 June 26th, 2021 Notes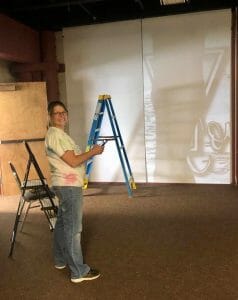 We now have projected and drawn the mural design on to all 10 panels.
It was not an easy task to get all the panels over to Docia Sweet Hall upstairs for the projecting, but we got them there and back again after drawing. We do still have to bring the last three panels back to the Gold Room this Wednesday.
We have the Gold Room set up for painting the panels. Now, we need to set up our painting schedules and get all the supplies purchased AND get the Ace paint colored and picked up AND buy the Nova paints.
There is such a variety of things to paint, there should be enough for everyone!! We have some artists that have volunteered to do a certain area that they are better skilled at. This is great, thank you for volunteering in those areas! At this Wednesday's meeting we hope to get more of our next steps figured out so we can be painting soon!
Invite your artist friends to have a hand in this large project! These panels are BIG when you look at the drawing on them that is to become a painting!
June 24th, 2021 Notes
Thank you to all who helped with the panel moving this afternoon! Wow! It was like moving a piano, only more awkward. Hopefully the same crew and more will be willing to help again, to bring the panels back downstairs when we are done projecting!
We have now moved all the panels over to upstairs in Docia Sweet Hall for the picture projecting and drawing on to the panels.  Small work parties will be able to do the drawing (one panel at a time doesn't leave much room for more than 2 people at a time!)
Lisa will be the lead in the drawing. If you would like to have more info in taking part in this please call her directly or text me (541-698-7374). Times for the small work parties will be limited.
June 23rd  2021 Notes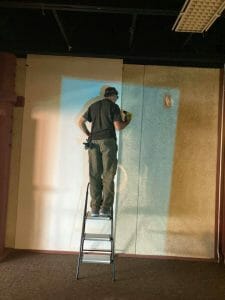 The next stage of the COG project is ready to start!  Lisa brought copies of each of the panel finals. She also brought them with only the outlines on them to show us what we will be projecting and drawing on the panels.
We checked out Docia Sweet Hall for availability of wall to do our picture projecting onto the panels for the outline drawing. We settled on upstairs in the Mezzanine. There is a good wall to attach the panels safely to while we do the drawing.
Some of us are going to meet tomorrow after 4pm to move all the panels over to Docia and upstairs where we will also set up the projector.
Lisa will connect with Erin D. and plan to have the projector (that is at the fairgrounds currently,) to use for our drawing. We will hope to do a mock set up tomorrow and trouble shoot any areas that need help.
A list has been put together of what we will need for the time of the drawing/projecting.
IF YOU have any of these items and can bring them tomorrow please do. I will provide clean gloves for panel moving.
This will be for set up: an electric  drill with regular and Phillips bits, a yard stick, a 3ft long level, 16ft measuring tape, tacks, tape. Also if you have color pencils you would like to use, bring them for type and  color check in.
This will be used for projector days: step stools, color pencils, a cool shirt for the hot mezz,
We will be signing up for time slots for the days for projecting. We can only do one panel at a time, so not everybody needs to show up at the same time, but maybe we can stagger the times. We may not be able to work solid all through the day, as projectors may overheat, or any other fly in the ointment. BUT we only have approximately 2 days for our set up to be in the Hall, as it is a rentable building and we dont want our stuff in there way or the other way around!!
We will have a better idea of our projecting days after tomorrows set up. Bear in mind, It may be a quick decision in a short time frame.
June 9th and 16th, 2021 Notes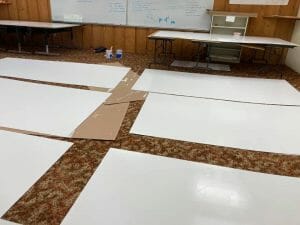 The group is excited to announce that the panels have the first coat of primer.  Thanks to all who came out to help. Two more coats then we're ready to project the design onto the panels and begin the actual design painting!
Although we still need to present our final design to Curry Arts for approval, today at the Fair Board meeting the CEO of the Fairgrounds (Kaitlyn) and the Fair Boardapproved our design for the mural. After we get word from Curry Arts, I will let you all know what our next step is.
The panels have been primered 2 times and look good for starting our painting project.
With an anticipated go ahead form Curry Arts, tentatively our next step is to project the drawing on to the wall so we can draw the outline on to the panels.
We can use Docia Sweet Hall for the projecting, but we need to get it done in a short amount of time. The biggest thing is that the projector needs to be left in the EXACT same spot for the duration of projecting the picture on all 10 panels. We have Docia available to us until mid July (barring all unforeseen circumstances including fire camp!) But, for this project it is best if we just block out a couple days and get the drawing done.
Lisa, in my notes from the April 7th meeting, am I correct in that  it was mentioned that you had offered to draw the mural outline? Did I note that correctly?  That is definitely a project that we need to take a couple days and just do. Please let me know if I understood your thought correctly.
I will plan to take a couple weekend days to just help do the project. Anyone else who can help, please let us know at the next meeting! I have a list from Meghan of things we will need for the projecting project. Does anybody have ANY ideas of how to temporarily attach the panels to the wall to project? Meghan suggested metal rotatable flanges, but I cant find anything by that name anywhere. The panels have to lay FLAT on the wall and we have to attach 2 at a time and be able to remove them and put in the next panels same place.
We will get together the supply list for this step in the project at the next meeting.
Nova Paint will need to be ordered asap. The monochrome paint (from Ace) will need to be colored and ready. The quantities of paint we need will need to be calculated.
June 2nd, 2021 Notes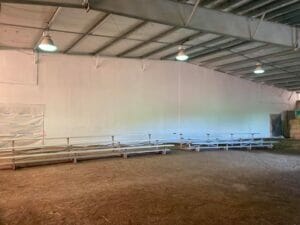 *Design planning ideas: We went over the latest copies of the mural with high appreciation for progress on it! Lisa Shore is amazing in her talent to put this mural together. We picked the color swatch for the monochrome.
*We will start priming the panels in the near future. We need to work on getting our 'studio' in order next week.
*Supply shopping list: We will start putting together a shopping list for our painting projects. If people have ideas of items we will need, please put it on our list! We will also start getting the paint orders ready.
*Fair Board meeting report: We took the latest mural rendition to the meeting for the next step in the approval process. They had favorable comments and are supportive of the ideas. They did request to have agricultural back in the mural, as originally requested by Kaitlyn CEO and Fair Board.
*Helpers are being signed up for helping Janee with the youth wall mural. If this is something you can help with, please let us know.
*Big Reveal party: We hope to have a simple elegant Reveal party. The date will be TBD, but after the mural is hung, of course! Late August is an idea.
*Plan B if fire camp is on the fairgrounds: IF fire camp is a reality on the fairgrounds this summer, our plans for hanging the mural and the Big Reveal party will be delayed temporarily. More than likely we will still be able to paint the panels in the Gold Room as planned. (Fire Camp always takes precedence over everything, except usually fair!)
May 26th, 2021  Notes
*Wall framing update: Brian Downing (volunteer contractor ) has let me know that he has some Trex lined up for the project, and a donation of screws for the framing. He will continue to update us on his progress. We may be asking for a lunch or snack table for the workers when they are doing the framing.
*We will pre-drill holes in panels, before any  painting starts. I will ask Brian D. and crew if any one of them has a talent for drilling holes proficiently. Sage advice was offered by Meghan that the drill will leave sharp bits sticking out of the panels, so a second step of de-burring will need to be done.
*Design planning ideas: We brainstormed the design, and are getting very close to the final. Lisa will plan to  have the semi final for us to present to the fairboard meeting next Wednesday, directly after the Circle of Gold meeting.
* After a brief paint discussion, we finalized our paint choices. We will use white Killz or similar item for the primer on the panels. We will use the Ace hardware donated paint (and buy more as needed) for all the monochrome. We will use Nova paints for all the LETTERS and everything inside them and the outlining of them.
*We will start a supply shopping list next meeting.
* We read a very nice thankyou card, that was sent to CoG in response to the thankyou we sent for painting the barn wall with the white coat.
*Janee is looking for a person(s) to assist with the youth part of the design. A brief outline was proposed and discussed. The youth part will be the wall to the left and to the right of the mural panels and will include the selfie area and the back ground for the recognition  donor panel that we attach to the wall. An idea of a fun VW bus portable selfie prop was planned, as well.
*Ellie has offered to coordinate the painting  painting days with people. We should be able to have access to the Gold room during the days, with fair office staff in the office available Monday to Friday 10 to 3. In the evenings, Janee or myself can unlock the Gold room for painters.  We must always have at least 2 painters at work on the mural per fair office request for liability.
*We have more informational CoG flyers to hand out. Look for the stack of them next meeting and help yourself.
*Next meeting will be June 2nd at 4:30pm
May 19th, 2021 Notes
*Wall framing update: Today we met with the contractor, Brian, who is going to install the framework on the wall at the barn. The mural panels will be attached to this framework. He will look at different options for the frame: Trex, pressure treated or Port Orford cedar. He will get an estimate to us in the near future.
*We have a bit of good, unexpected news which is that the same Brian that is volunteering to put up our framework for the panels, has offered to hang the finished mural panels!!! That is awesome!
*We need to pre-drill holes in panels before painting, preferably before priming! Does anyone have a contact for this? It will need to happen after the framework is done. If anyone has names of people that would like to volunteer for any part of this project, just let us know!
*Design planning ideas were touched on briefly, with no updates on the current status of the picture.
*Painting days and times will be taken care of by Ellie, so keep her in mind and connect with her at the meetings to look at best times to get painting. Talk to all your artist groups and friends, and ask them to get involved!
*Janee will soon be re-directing her focus to the youth part of the painting. She is gathering names and info from interested parties on the youth side, and will co-ordinate with us and them for the latest progress report!
*Next meeting May 26th at 4:30pm
May 12th, 2021 meeting notes
*Wall framing update: Playing phone tag with the contractor to meet and discuss what we want for the wall framing for the panels.
*We will need to pre-drill holes in panels before painting; does anyone have a contact for this? It will be a project that happens after the framing for the panels is on the wall, so we know the actual spacing for the holes.
*We will be painting the panels with the primer in the near future. We will give notice of when, so you can show up in your favorite painting clothes!
*Most of the meeting was spent on design. Lisa Shore showed us a fun peek video of the progress to date on putting together this mural on her computer program. WOW! So involved and so many hours! Thankyou, Lisa, for your expertise!
*The May 5th fairboard meeting suggestions were listed as well as the CoG and other suggestions. Lisa graciously listened to all of us, and will go back to the 'drawing board' for another step closer to final design. There was alot of in-depth discussion about all aspects of the design. We will again present the re-do design to fairboard and Curry Arts before commencing the projecting and drawing on the primed panels.
*We are planning painting days, so connect with Ellie to find dates that work for all. We need at least 2 at every paint party. Some days we will have alot of painters, other days smaller groups.
*Meghan gave us a couple 1/4 sheets of the panels, one to practice with, and one to put our final donor and participant names, on for the wall. Thankyou Meghan! That will be great to have for practice! Erin D. has volunteered to have the names put on the donor panel for us, Thankyou Erin!
*Next meeting May 19th at 4:30pm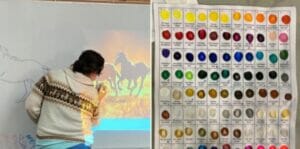 April 28th, 2021  Notes
*Wall framing update, I have had regular contact with the contractor that is going to install the framing on the wall for the panels, but no date set yet. We will ask him about Trex versus pressure treated for the boards, for best results.
*After we get the framing up on the wall for the mural to hang on,  we will be able to pre-drill the holes in the panels for the screws for the hanging.  Janee has a contact she will ask to volunteer for that. Precision measuring will be key.
*We will do a primer coat on the panels as soon as we know what our paint idea is going to be (monochrome versus normal).
*Paint type pro and cons were discussed. Lots of good information was shared. The subject was tabled until the mural design is approved by fairboard and Curry Arts.
*Design planning: Janee and Lisa are planning to have a few rough designs ready for the fair board meeting next Wednesday, and also an email presentation to send to  Curry Arts. They will take the options and include monochrome versions.
*Janee has gotten the ok from the library to utilize the main meeting hall to do the design projecting and drawing onto the panels. This offer is limited in time, and we will use only if needed…we still have Karil's shop and Docia Sweet Hall at fairgrounds as possibilities. Which building we utilize will depend on the timing of the projecting onto the panels.
*Ellie has offered to be our paint days planner. She will work with everyone and get best days and times. Please look at your schedules and consider what will work best for you for painting day.
*IF you have not been able to attend the meetings, but are still planning to join up with the painting days, please respond to this email and let me know what works for you. THANKYOU!!
*We will print more flyers to give to those who would like to hand them out or still hang in North or South county.
* May 5th next Circle of Gold meeting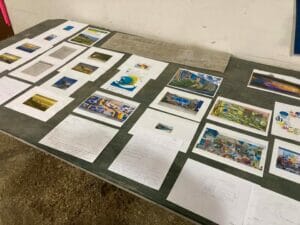 April 21st 2021 Notes
* Photo journey with CoG …any photos taken of our CoG progress send to Janee or Becky. We will get them to Erin and she will work out a video journey of the mural or a photo album for it.
*Wall painting: Stan Thomassen with Property Pro and his crew got the barn wall painted the first coat. A decision will be made on if parts of it need a second coat. Thanks to the CoG volunteers who helped out and also brought lunch!
*Wall framing update: Brian Downing and also Tom with Tom Coleman Construction have volunteered to put the framing for the panels on the wall for us. They are busy contractors, so not sure when it will happen, but it will.
*Paint: A generous donation of paint is offered from Dan's Ace Hardware. Other paints were discussed for use, including Nova Color and combining water based options. A clear coat is also planned for the final picture. We're doing research to make the best decision on paint use here.
*A hands on paint layering pallet idea was shared by Julie and Becky H. and will be continued next meeting with more layering and options.
* Painting the base coat on the panels is a project that is coming up soon. An idea was brought up to pre-drill holes in panels. This would not be done until the framing is done, so discussion was tabled until later. IF anyone knows someone that may be handy at that, keep them in mind in case we decide to pre-drill. We will also need to get screws that are compatible with the panels, and wont rust or damage the panels, and I will send an email to Montroy and inquire the best fasteners to attach the panels to the framing.
*Janee will look into the Library as a third possible place for projecting and drawing the final picture. We still have Karil's shop and Docia as possibilities.
* May 5th next fairboard meeting to get drafts to, if you have ideas send by email to Janee or Becky or bring to the next meeting!! For our ideas for the next fairboard meeting and to send to Curry Arts we are intending to have 1. A full S to N county coastal scene, 2. An open CURRY lettering option over a S to N coastal background (with letters full of county based pictures) and also a monochrome background with this same idea.
*Meanwhile, start getting your painting wardrobe ready, your props ready and start thinking of times when it is best for you to join in painting parties that will be coming soon!!! We will be getting together a chart for painting hours.
*Next meeting April 28th at 4:30pm in the Gold Room at the fairgrounds!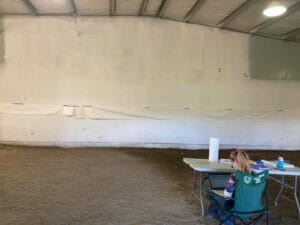 April 14th 2021 Meeting NOTES
* Panel update: We received the panels Monday. They are in the CoG meeting room(the Gold room!) – this is the previous SWOCC classroom near the fairgrounds office. We are now meeting here and staging our painting teams in this room.
*Base Wall painting update: The wall that the mural panels are going to hang on in fairgrounds building is DONE!!! Many thanks to volunteer Stan Thomassen, Property Pro and his crew for getting the wall painted today! And THANK YOU to all the CoG volunteers that helped at the event and brought food for lunch!!!
*Results of Fair Board meeting: The Fair Board liked the concept of the open letter CURRY on the mural, and gave us some suggestions to work with, also still requesting to see the open landscape option.
* So, with this in mind we spent most of the CoG meeting putting together a mock up for the whole mural, using both ideas as per Fair Board. We are doing our best to include portions of ideas from everyone who has submitted ideas. The homework that people took home helped to add to the general picture. The whole mural took a creative twist with a new concept, while keeping the original idea going. More on that twist after this weeks meeting. As always, we are committed to giving updates to Curry County Fair Board, as well as Curry Arts for final approval.
*** Would you like to sketch, draw or paint a rendition of your ideas for the mural?  simply use a ratio of 1:2 length by height x 10 vertical panels, any size for your drawing … or contact us and we will get you a roll of paper with these dimensions marked out. (the mural will measure 50ft wide by 10 ft tall. A drawing to scale for one panel can be 1" wide by 2" tall per panel x 10 panels. (So, 10" x 2" or 20"s 4" etc. for a 'to scale' artwork) were happy to pick up and deliver your artwork ideas. ***
* Photo journey update: Julie and Anne have graciously agreed to help out taking photos as we go, as well as another volunteer for it, Calvin. Their collaborative effort will help to make good photo album for the project. Thank you!
* We will continue with Wednesday at 4:30 meetings thru April, and then reevaluate and see if the time or day needs changed, to allow for the painting to start! Now we have panels to put a primer coat on.
* Need help putting up flyers and reaching artists and any interested participants in Curry County! Contact us for more info. please.
* See you at the next meeting! Keep sharing the Circle of Gold idea!! If people want to donate, sure, absolutely!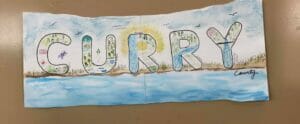 April 7th 2021 meeting notes
*Fliers are ready for all to take and pass around; we still need volunteers to pass out flyers to north and south county. We will continue with the current flyer in April. When we start other phases of the project our invitation for input will change to reflect that on a new flyer. Next week we can add location ideas to the list for north and south county.
*Donor list: It was mentioned to start a list of current donors, so the same people are not asked again for donations. Also, we can have a list of people/businesses that may have been asked but were not able to donate at this time, for same reason as above.
*Video journey with CoG and/or take photos: Anne T. has offered to take photos for the CoG project and another volunteer, Calvin, has also offered his service for that. Thankyou!
*Panels: Will be ordered this week. (they were ordered on Thursday, when they arrive (DTBD) we will need help off loading on delivery day, if you can help with this daytime event please let me know!)
*Drawing the mural outline: The finished mural idea will have to be put to small scale and painted so we can project it onto the panels , which then we will trace around prior to painting. Lisa S. has graciously offered to do this for us. Thankyou!
* Liability forms: We now have the forms for everyone to sign. Thankyou for agreeing to be a part of this project!
*Wall painting work party: Volunteers needed…Julie and Ellie have offered their services, thankyou!! I will keep you in the loop of when we are doing this part of the project.
*Drafts to the Fair Board zoom meeting: Janee did a great presentation of our draft ideas to the Fair Board.
The results from this meeting are the homework for this week!
OPEN LETTER FORMAT: Fair Board likes the open letter CURRY option; work with a south to north background of coastline and landmarks, sunset etc; and CURRY letters to have the other scenes from Curry County in them, as per examples already on facebook and options on the tables at meetings. The Rogue River Bridge was a hit, under the word Curry.
FULL SCENE MURAL was also liked, and they would like to see samples of a developed south to north county coastline with everything landmark and of note incorporated into the scene.
IDEAS: Here is a list of ideas that are on the drawing board, some are more local to county sections, some are just wherever!
SOUTH:
Lily fields, horse on beach, rivers, sunset, wind surfers, kite surfers,
CENTRAL:
Rogue River bridge, river, glass floats, fairgrounds events, Ferris wheel, prize winning cow or pig etc, bear, daffodil hill, beach, 4H,
NORTH: sheep, elk, trees, lighthouse, battle rock
There are more ideas out there…just start drawing!!!
*Scroll homework: For those of you who took the blank to scale scroll home, please start drawing and fill up the paper!
*Paints: Discussed paint options, wont need to finalize options until mural idea is to paper.
*Fair Board request: Have choices to send in for next Friday, April 16th, Fair Board meeting.  We can prep for this on Wednesday, April 14th CoG meeting.
March 31st 2021  notes
*Funding update:   $3350.00
*Getting the word out! We have been putting PSA's in the Pilot and Reporter newspapers and on KURY and KGBR radio. Janee was asked to do a 'Spotlight' 5 minute on KURY radio as well, AND the Pilot newspaper was at our March 31st meeting, so Circle of Gold is truly getting the word out to the Curry County community!!
*Flyer update: The new flyers were available for everyone to take and deliver to people and business. We will have more available at next meeting.
*Video/photos request: Calvin (?) has volunteered to take a photo progress journey for CoG.
*Wall painting update: Paint and other items have been purchased for the base wall painting. Stan Thomassen with Property Pro is volunteering his labor, but we are requesting volunteers to help him. Not sure when yet, but it will most probably be a Saturday. Thankyou to those who have offered to help with this part, I will update the list next meeting.
*Update on liability forms: Fair office has provided the form, I will have available for all future work days. (Kaitlyn, CEO Curry County Fair update: For liability reasons at least 2 persons are to be at the CoG project at all times, and no panels can be taken off fairgrounds to be painted)
* Room to paint: We will be able to use the old SWOCC class room for painting the panels. The room does not have high ceilings, so we will request from Kaitlyn the use of Docia Sweet Hall for 2(?) days to do the projecting and drawing of the picture onto the panels. Karil has allowed the use of her 20×40 shop as well, and she lives close by. (update: Kaitlyn said YES to using Docia for 2(?) days)
* Framing for panels: Volunteer contractor has been contacted, and I will meet with him to get an estimate of what needs done. I will also call Montroy, the panel company, and get an idea from them on how to hang their panels.
*OPEN DISCUSSION:  Our next step is to put all the ideas we have  had onto paper or any medium.  Alot of amazing creativity in art has been brought to the table,  keep the ideas flowing and bring more to the next meeting. Bring or email your art. Try to create 2 pieces…one with the word CURRY in open letters and art inside them, and one of your own creation, but with the highlights of Curry County  in its expanse.
*Youth painting organizer or lead: Janee has offered to be the lead for the youth painting.
*SAVE: Save your empty clean containers with lids for paint!!!
* First deadline: We will try for an April 7th deadline to turn in ideas and get drafts to the CC Fairboard meeting, which is Wednesday night, April 7th . We need to have samples of our vision, so the CC Fairboard  can view and offer comment, send feedback or approve (required for the CoG project). Curry Arts will also receive the updated samples for approval, as per request of the CA board.
*Next meeting is tentatively set to be held at the old SWOCC class room up by the fairgrounds office. Look for signs on your immediate left as you drive into the fairgrounds. BUT NOTE: Due to Covid restrictions, this meeting place may have to move back down to the pavilion in our usual place. I will update Tuesday night if I can, on location.
March 24 meeting  notes:
*Funding update:   $3350.00
*Flyers are ready to go, but we could not get any color copies of them for the meeting, so we will get them out to everyone next week to hand out . Radio stations in south and central county as well as newspapers in all three sections of county have been doing PSA's for us.
*Update on the wall: Stan with Property Pro has a quote for what we need to paint the wall, and I will pick up at Gold Beach Lumber this week. We will get two free gallons of paint, donated from Gold Beach Lumber, and the paint bill will be under $150, which includes one base paint and one final paint.
*Update on liability forms (not ready yet)
*Use of former SWOCC classes building was approved by Kaitlyn (CEO, Fair) for painting of panels with Karils shop as back up for panel set up.
* Invited volunteer contractor Brian D. to meet down at the barn to give us a quote on supplies needed for framing. Will update after the Brian meeting. Use of Trex and galvanized and/or stainless fasteners. Meghan may talk to panels people on how to hang panels, or contractor can call him.
*IDEAS AND LAYOUTS:  Bring your ideas  to the next two meetings. We had alot of discussion on using the idea of CURRY in big open lettering (example of AUSTIN on Circle of Gold community mural face book) and then fill the back ground with an overall scene (like beach and sunset and forest)  and each letter with the Curry County idea's.
*EVERYONE HOMEWORK:  Bring your drawing of a rendition of the CURRY layout idea AND bring designs of your own with your ideas and those gleaned from the pictures that are out and about. Bring the whole mural idea. We need to narrow down all the ideas into a mural format, to present draft options to the Fair Board. Include youth painting ideas.
*Erin projected pictures onto the wall for large viewing, and Lisa has program set up for projecting on to the wall and has a "canvas" on it all set up and waiting for the final project
*  Youth painting organizer search ongoing.
* April 7th first deadline to turn in ideas/get drafts to the Fair Board meeting on Wednesday the April  7th
*Save your empty clean containers with lids for paint, and clean plastic or foam trays.
*It's all starting to come together. Invite everyone you know! More homework to come! Share the fun!! There is an ever-growing interest in this project, and it's exciting !!! Thank you all!!
Becky Schafer
March 17 meeting notes:
*Funding update: To date we have received $2750.00 in the form of individual  donations, a $1000 donation from Curry Arts and a grant of $550 from Curry County Cultural Coalition. Gratefully, the  donations are still coming in! Many thanks to Curry Arts for the use of a debit card for the money pass thru for C of G.
*Flyer update, Janee and Julie are joining their talents to make flyers to pass out.
* To document our progress with the Circle of Gold mural , Julie and Erin offered to video  and/or take photos, as well as other ways,  so we can track our project.
*Update on the wall: Stan with Property Pro is going to paint the base wall for us, and we will provide the paint.
*WALL PREP DAY:   pull nails/screws etc.,  tape off doorways, move stuff away from wall, (ladder needed) NOTE: I will send out an email on Tuesday if we still need to have the wall prep day.
*Update on liability forms: fair office is working on it.
* Discussed other room/area options to use for the mural panel painting, if Docia is not available. Other suggestions include Karil's shop, forestry building and former SWOCC building.
* Volunteer contractor has been contacted for the panel hanging under frame  and Becky will meet with him to discuss options.
* Erin will work out an option for the partial panels for the donors and the contributors.
*Many ideas were shared and a table of pictures were looked at and favorite ideas were marked. Next two meetings will be geared to incorporating all the ideas into a mural. EVERYONE IS ENCOURAGED TO ATTEND these next meetings as we build the mural design. Get those ideas on FB or email them or bring a pic to the meeting. We can use lots of visuals!!
* Youth painting opportunities were shared and help organizing  and putting a plan together for that needs input and ideas as well. Educators and youth from Port Orford to Brookings have been notified and invited to participate.
*Next meeting March 24th at 4:30pm
March 10 meeting notes:
Our funding update: CCCC grant $550; Curry Arts donation $1000; and 10 $100 donations for our mural panel fundraiser!!! Excellent work Circle of Gold group!!
The idea is to incorporate all of Curry County in to the mural. Subject matter offered by the Curry County community so far include: Curry County history and cultures (tribal, chinese); gold panning; historic use of the fairgrounds; prize winning animals; agriculture; old fair ie. horse races; dahlias, lilies, fuchsias, daffodil hill; Azalea park; Battle Rock; forest; beach; sunset; sealife ie. Whales, fish, seagulls, sea lions; horses, sheep farms, cranberry bogs; 4H, ie archery, animals, showing animals; Rogue River bridge; forest animals ie. Elk, bears.
This month we have to narrow it down and decide on the design for the mural, so put your artistic talent into a design and bring it to the meeting this month!!! (Julie, get those lilies  into your picture!) The drawings should not be too complicated, as the size of the mural is 50ft long and 10 ft high.  We discussed the mural in three sections,  south, central, north; also painted in a circle pattern.
Idea's for the youth involvement include: lilies, daffodils, fir fronds, clouds, waves. We will need the teachers and leads of the youth to let us know how many youth they would like to bring, and orchestrate time frames to get everyone that wants to paint the opportunity to be able to paint somewhere on the mural.
We hope to have a design in place, or make a decision by our first meeting in April.  Becky will verify with Kaitlyn on the use of Docia Sweet Hall to paint the murals in.
Julie, with help from Becky, will design flyers for us to pass out and hang.  Meghan will check with In Motion Graphics for the donor sign idea.
More to come, next meeting is Wednesday March 17th at 4:30…invite anyone you think would like to join the group!!!!! Everyone welcome, we will find a job for all skill sets!!!
March 3, 2021 meeting notes:
The mural project now has an official name:   Circle of Gold Community Mural.
The 'Circle' represents community, unity and the giant ferris wheel at the annual county fair.  'Gold' represents our amazing sunsets, the fair gold medals, and, of course, the shiny stuff found on our beaches during the gold rush era for which our community was named.
The next project meeting is scheduled for Thursday, March 4 at 4:30 p.m. on location at the Curry County Fairgrounds.  This meeting will focus on the mural design.
Input from all is encouraged and welcome.
The organizational meeting on February 25th was well attended – 12 people including project leaders Becky Schafer and Janee Lensing were in attendance.
The group discussed the genesis, goals and vision for the project, how to move forward, and officially named the project 'Circle of Gold'.
A rough timeframe for completion of project was established for early July – with the goal of a formal 'reveal party' on the first day of Curry County Fair.
The group is seeking:  leadership persons to help with the endeavor, design input, assistance with supplies, and donations to help cover costs.
Curry Arts, Inc. took action to donate $1,000 to help fund the project.  But additional funds will be needed to complete the project.
The group will begin to broaden community outreach for the project by contacting local radio stations and newspapers.
Please contact Janee Lensing jllensing@gmail.com if you have questions and are interested in making a contribution to this terrific project.  More information is also available on the Gold Beach Art Enthusiasts Facebook page https://www.facebook.com/groups/GBArtEnthusiasts
Interested persons are requested to complete this form and bring to the next meeting.
cog-registration-022421

Post:  February 23, 2021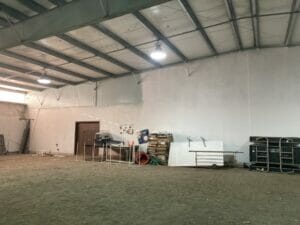 Nothing excites artists more than a blank canvas — in this case a really BIG blank canvas!
The Curry County Fair Board has approved the painting of an indoor mural in one of the large buildings on the grounds of at the Event Center on the Beach in Gold Beach.  All members of the community are invited to participate.
The mural will be on an expansive space of approximately 800-1200 square feet with a completion goal of June 2021.
It is anticipated that over 40 individuals will be needed to complete this project.  Participants will include community members of all ages and artistic abilities including Curry Arts, Inc. and Gold Beach Art Enthusiasts members, local schools and organizations, and any other interested individuals.
If you are interested in being a part of this exciting community adventure, the first meeting to establish a planning and painting committee will be held Wednesday, Feb. 24 @4:30pm at the fairgrounds.
For more information, contact Janee Lensing at jllensing@gmail.com or visit the Gold Beach Art Enthusiasts Facebook page https://www.facebook.com/groups/GBArtEnthusiasts.
Curry Arts, Inc. and its outreach group, Gold Beach Arts Enthusiasts have received a $550 grant from Curry County Cultural Coalition and the Oregon Trust Foundation to help with the costs of the project.  A special thanks to the two organizations for their financial support and to Janee Lensing for spearheading this effort!
Keep an eye on this website for updates as this project develops.