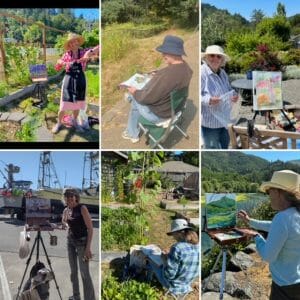 The group of painters known as OOPS! (Oregon Outdoor Painters Society!) will display their plein air works at the Curry Public Library November 6, 2023 through January 31, 2024.
OOPS! is a very informal group of plein air painters who meet, whenever the weather allows, throughout Curry County.  There's no instruction, critique, or show-and-tell when we're done.  And, when we accumulate enough paintings, we have a group show such as this one!
An Artist Talk and Reception will be held on Thursday, November 30, from 5:30 p.m. to 7:00 p.m. in the Library Meeting Hall.
Participating artists include:  Laura Lee Cundiff, Tammy DeLaney, Alexandra Eyer, Carol Koch, Shelley MacIntosh, and Patricia Renner.
Please stop by to view these terrific works by artists who brave the elements to create their art!