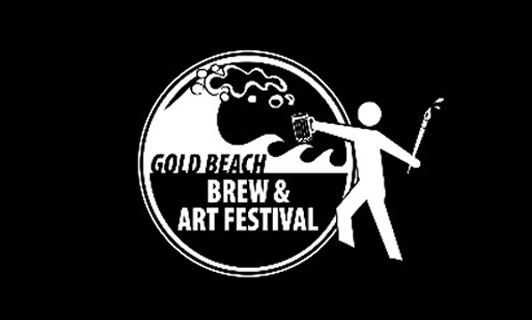 Welcome to the 11th Annual Gold Beach Brew & Art Fest (GBBAF) sponsored by Soroptimists of Gold Beach and Curry Arts. We invite artists to submit a variety of hangable art to display for sale during the GBBAF.
DATE:  Saturday, September 8, 2018, 12 noon – 9 p.m.
WHERE:  Event Center on the Beach, Docia Sweet Hall, Gold Beach, Oregon
ENTRY DATE:  Friday September 7, 2018, 4 – 6 p.m.
Click here for the call to artists flyer.
Click here for the artist entry form.
Entry rules:
*All work must be original (except rack prints).
*All art must be professionally framed and/or ready to hang. Oils, acrylics, & mixed media pieces on finished-edge canvas may be exhibited without a frame.
A hanging fee of $15, which includes your Curry Arts membership (September 1st through August 31st), will be charged for up to 10 pieces, payable with entry paper work.
The hanging fee for Current and Lifetime Members will be $5 for up to 10 pieces payable with entry paper work.
* No fee will be charged for rack prints or push pin art.
* Push pin art may be hung in the designated area.
* Maximum frames or canvas size cannot be over 44 inches in any direction for hangable work.
Acceptable art forms include:
* hangable 2- and 3-dimensional paintings (oil, acrylic, watercolor, collage, mixed media)
* photography (digital, 35mm, altered image)
* stained glass, and textiles.
All artwork must be for sale.
Artist cards with contact information:
Artist cards with contact information MUST be provided for ALL rack and hanging artwork, including title, medium, and price. Artist cards may be left at the host table, which may be picked up with your unsold art the next day at the pick-up time, Sunday, Sept. 10, 2017, between 9 and 11 a.m.
Sales:  There is a consignment fee 15% for artwork sold. Checks will be issued from Curry Arts within two weeks of the close of the festival.
Pick-Up: Sunday, Sept. 9, 2018 between 9 and 11 a.m.
Contact: Doreen Nielson (541-490-1593) or Theresa Hendrix (541-247-2505).
Curry Arts reserves the right to refuse, upon arrival, any work of unacceptable quality.
This will not be a juried show.