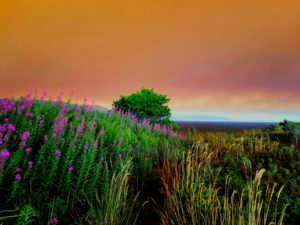 The Brookings Second Saturday Art Walk, November 11, 3 – 6 p.m., welcomes fall with a new lineup of art, music and special events. It all starts at 3 p.m. at Feather Your Nest, 800 Chetco Ave., with a live make-and-take earring demonstration and Sweat Britts candy and tea sampling.
Then, at 4 p.m., there's an interview with PBAA/Manley Art Center's featured artist, Michelle Chegus, who creates drawings, photos and pottery.  That's followed at 4:30 p.m. by a meet and greet with Brian Scott Gallery's featured artist, Judith Falconer, explaining her "Mystery of Motion" series of wildlife paintings.
If you miss any or all of this Second Saturday Art Walk's activities, there's an after-art-walk report with photos on www.wildriverscoastart.com
Complete Venues List:
1. ABC Creations, Lower Level, Art Walk Alley and Willow St., 541 661-7930 ABC offers a wide selection of art and craft items—paintings, fabric art, sculpture, barn wood art, pottery, jewelry, as well as fabric and other supplies. Music by Patty Anne DaCunha.
2. Ambiance by the Sea, 530 Hemlock St., 541 254-4097: Featured artist is Karen Berry, and Ambiance offers an interesting, eclectic selection of other original art and collectibles, including birdhouses, pottery, art glass, driftwood art and more.
3. Brian Scott Gallery and Signatures, 515 Chetco Ave, 541 412-8687: Special Event, 4:30 p.m.: Judith Falconer discusses her "Mystery of Motion" paintings. And this large, multi-level gallery offers art and collectibles from more than a dozen other artists, as well as the artists of Signatures, gallery within the gallery. There's also a fine restaurant downstairs. Music by Shirley Hyatt and Billie Ruth Furuichi.
4. Chetco Community Public Library,  405 Alder St., 541 469-7738
5. Feather Your Nest, 800 Chetco Ave., 541 469-4300: Special Event, 3—6 p.m.: Ocean Jewel Beads performs a make-and-take Snowman Earring demonstration, and Karen Rogers offers samples of "Sweet Britts," English candies and teas. Features the works of several artists, including photo cards, jewelry, driftwood mobiles, and various other craft items and collectibles. Music by Rapp Brush.
6. PBAA/Manley Art Center,  433 Oak St., 541 469-1807: Special Event, 4 p.m.: Interview with featured artist Michelle Chegus (pottery, photography, pen-and-ink drawings). Gallery theme is "Shadows." Classroom has art, too, and hosts Tuesday painters, Life Drawing, Mudslingers, Chetco Photographers, Fiber Arts, and more. Music by Robert Kosslyn.
7. Semi Aquatic Gallery, 654 Chetco Ave., 503 451-3775: A showcase for the beach-themed oil paintings, prints and T-shirts of Spencer Reynolds, as well as associates. Art classes 11 a.m. to 5 p.m., Monday through Saturday or by appointment. Music by Lon Goddard.
8. Wright's Fog and Fine Arts Gallery,  810 Chetco Ave., 541 469-7900: Abstract painter Mike Amos is featured artist. And this large gallery displays works by 37 other artists—jewelry to oil and watercolor paintings. Also, art supplies, framing services, and art classes Wednesdays and Fridays.
For the latest online information about the Brookings area art scene and activities, visit: www.wildriverscoastart.com.