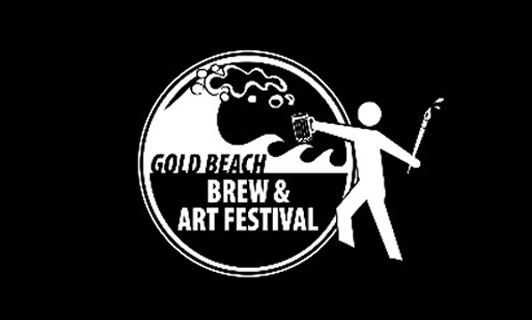 Curry Arts has been awarded a $1,000 grant by the Curry County Cultural Coalition (CCCC) to help fund music at the annual Gold Beach Brew & Art Festival. The 2018 festival will be held Saturday, September 8. Tammy DeLaney submitted the grant request on behalf of Curry Arts.
The CCCC recently awarded a number of other grants totaling $8,320 to 11 organizations whose projects most closely fit the goals and guidelines of the Oregon Cultural Trust (OCT) and the CCCC of increasing public participation in Oregon culture. The recipients for projects to be completed in 2019 are:
· Brookings Area Council for the Arts for its American Music Festival Concerts in the Park series at Azalea Park, Brookings. $750
· Curry Arts, Inc. for the Gold Beach Brew & Art Festival. $1,000
· Ellensburg Theater Company for the ETC Dance Theater Collaborative. $1,000
· Friends of Curry Library for the Children's Book Illustration. $610
· Friends of Langlois the Library for An Evening with Jane Kirkpatrick. $585
· Pelican Bay Arts Association for the Festival of Art in Stout Park. $375
· Port Orford Arts Council for its Art in Abundance. $1,000
· Port Orford Library Foundation for the Rock Music Day Camp. $750
· Port Orford Library Foundation for the Spotlines free quarterly zine of poetry and graphic arts publication. $500
· South Coast Folk Society for the Curry County Contra Dances. $1,000
· Southern Oregon Public Television for the SOPTV Student Showcase. $ 750
This year's grant awards will be distributed during a reception co-hosted by the Ellensburg Theater Company and the CCCC on Saturday, December 2nd, from 2 – 4 p.m., at the Ellensburg Theater Company located at 94164 Moore St. in Gold Beach. The event will also feature a silent auction and a tour of the recently renovated Rogue Playhouse, followed by a short theatrical presentation.
Oregon Cultural Trust funds are generated through direct donations, the sales of Cultural Heritage license plates, and individual state tax credits. One third of the money that the OCT grants each year is distributed among 45 county and tribal cultural coalitions, based on population. These autonomous coalitions set their own priorities and re- grant OCT funds within their jurisdictions.