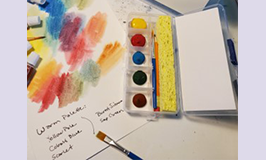 The Create and Celebrate Gold Beach art workshop series are sponsoring an En Plein Air get-together on Saturday, July 25th at 10am at the Port of Gold Beach.
En Plein Air is just a fancy way of saying "outdoors" and under the present circumstances that is the safest place to gather while making art.
In keeping with the Celebrate Gold Beach theme, we are encouraging participants to use any art medium they choose to create small renderings of our town's iconic features and landmarks.
At the Port, you will have easy viewing access of the Rogue River and Patterson Bridge, the remains of the Mary D. Hume, jetboats, fishing boats, the marina, seals, seagulls, and more.
We hope you will be inspired and renewed by getting outside in the fresh air and gathering with others who share your enthusiasm for art.
For those without their own portable painting or sketching materials, 15 small watercolor kits will be available to loan out. Each kit will have paints, brushes, pencil, sponge, water cup, lap board and paper.  These kits will be available on a first come, first serve basis.
To protect each other, we will ask everyone to follow the social distancing recommendations and to please wear a mask while you are near other artists.  While painting or drawing, feel free to spread out or even sit in your car if that is a more comfortable option for you.
Here's how it will work:
Meet at the parking lot in front of Five Star Charters/Woggys at 10am for a quick meet-up and supply pick-up.
Find a spot and start creating! There are picnic tables and benches around the port area but a camp chair or beach towel on the ground can also work.
At noon, we will have a Show & Share back at the picnic tables behind Five Star Charters. This will be a great time to see what others have created and to share experiences and tips about painting outdoors.
To sign-up for our En Plein Air workshop, please contact Julie at goldbeachart@gmail.com.  The 15 watercolor kits will be available on a first come, first served basis so please let us know if you need one.
See the Gold Beach Art Enthusiasts Facebook page for more information.